Targeted Radionuclide Imaging and Therapy in Prostate Cancer

Seminar: Targeted Radionuclide Imaging and Therapy in Prostate Cancer
11 September 2021
Venue: Campus Erasme – Auditoire Claude (ground level building F – F2.204) – 808 route de Lennik,  1070 Anderlecht1
Registration has now closed.

Please be aware that last-minute road works have been scheduled on the ULB Erasme campus, meaning that the Route de Lennik will be partly closed on Saturday and Sunday.
Follow the local signs for access to the Erasme site (via Rue Meylemeersch or Allée de la Recherche). The parking of the Erasme hospital will also be made free of charge.
Plan your travel accordingly and allow sufficient time to reach the seminar building on time. More info below.

---
COVID information
Wearing a face-mask during the entire symposium is mandatory.
This information is subject to change according to government measures.
Moderators: prof. dr. Patrick Flamen (Institut Jules Bordet) and prof. dr. Christophe Deroose (UZ Leuven)

09:00 – 09:05

Welcome

Moderators

09:05 – 09:35

Radium-223 : latest developments and future perspectives

Dr. Kristoff Muylle (UZ Brussels / AZ Delta)

09:35 

– 10:05

M

olecular Imaging Prostate Cancer

Prof. dr. Karolien Goffin (UZ Leuven)
10:05

– 

10:35

Lu177-PSMA ligand therapy

Dr. Carlos Artigas (Institut Jules Bordet )

10:35

– 11:00

Break

11:00

– 11:30

Alpha-emitting radionuclides : radiopharmacy aspects
Erik de Blois (Erasmus MC Rotterdam)

11:30

– 12:00

Targeted alpha therapy in prostate cancer

 

Dr. Benedikt Feuerecker (Technical University of Munich)

12:00

– 12:30

Discussion

Prof. dr. Patrick Flamen (Institut Jules Bordet)
---
Targeted Radionuclide Imaging and Therapy in Prostate Cancer
Prostate cancer is the most commonly diagnosed malignancy in men and the second leading cause of cancer-related deaths in Europe. Although localized prostate cancer can be treated effectively in different ways, many patients progress to incurable metastatic castration-resistant prostate cancer. Diagnostic nuclear medicine techniques for imaging PSMA have been firmly established over the last years in guiding treatment decisions in prostate cancer patients. Moreover, emerging randomized clinical trial data demonstrate the critical role of targeted radionuclide therapies in managing advanced disease, improving overall survival. This seminar will cover the spectrum of diagnostic and therapeutic nuclear medicine techniques in prostate cancer.
Accreditation
RIZIV/INAMI accreditation 3 CP granted (N°

21010970; category 3

)2
FANC/AFCN radiation protection continuing education granted:

03h00 for Radiotherapists using nonencapsulated radioactive products
03h00 for Nuclear medicine physicians
00h30 for Radiopharmacists
1 Subject to government restrictions on in-person meetings.
2 RIZIV/INAMI accreditation for nuclear medicine physicians is available for BELNUC members only.
Driving directions and Area map
Building F – Auditoire Claude (red)
Beware of road closure due to traffic works on the Route de Lennik: download access plan.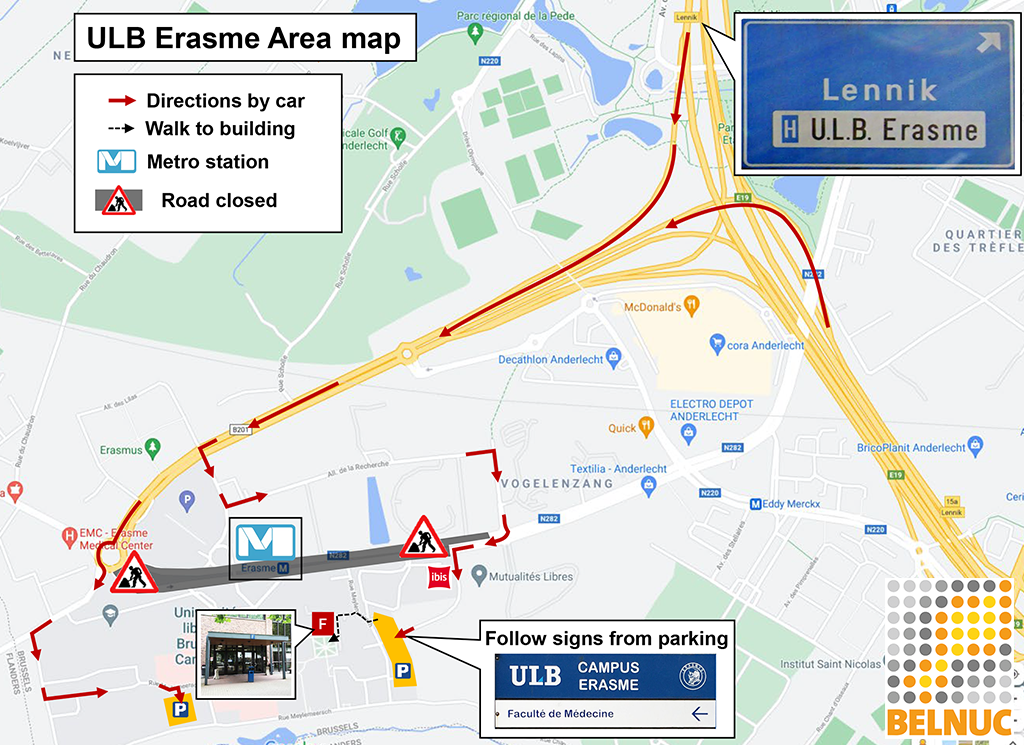 Campus entry plan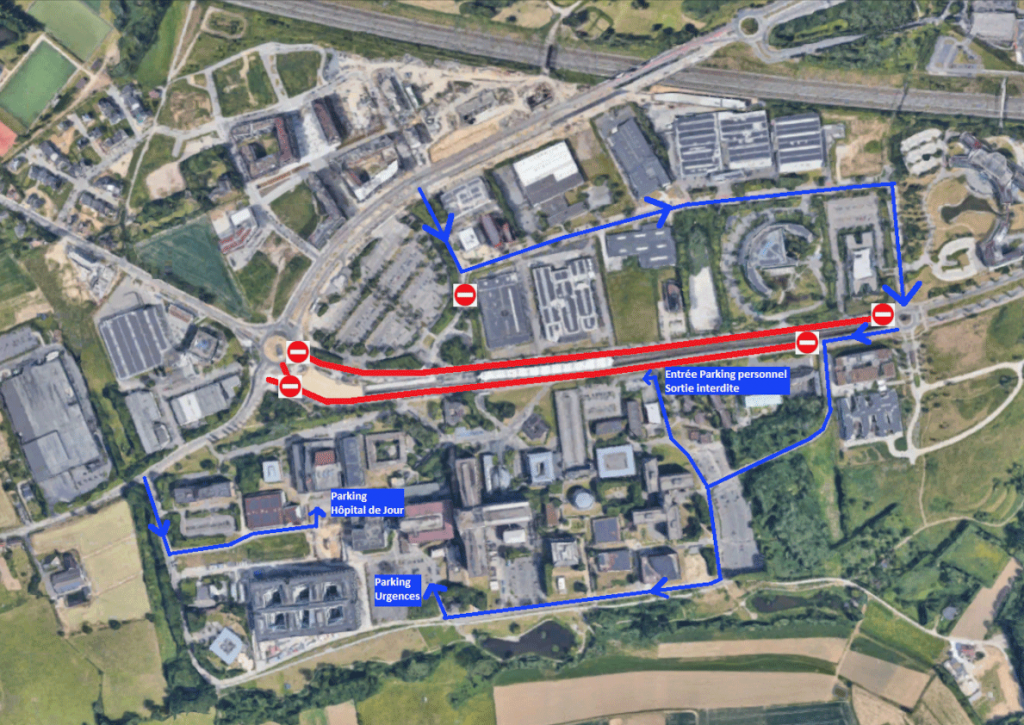 Campus exit plan