BELNUC '23 La Hulpe Symposium – Exhibition & Sponsorship
Venue
Our unique setup of pop-up booths at Dolce La Hulpe offers up to 800 squaremeters available for our industry partners.
Location: Dolce La Hulpe Brussels
Floorplan Exhibition:
The floorplan of the Industry Exhibition of BELNUC'23 can be found below.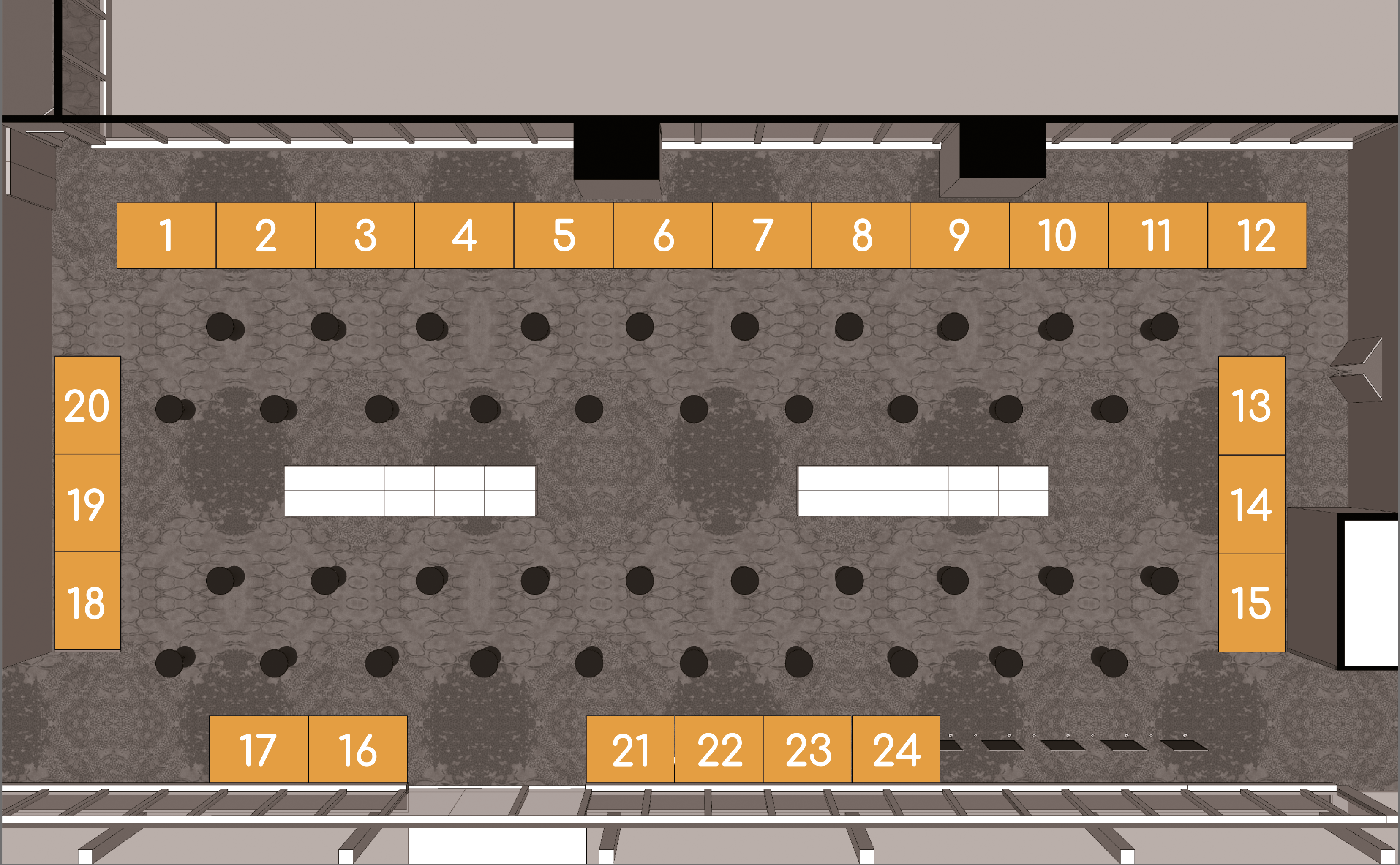 The following companies will exhibit at BELNUC'23
Booth 01: Scannix
Booth 02: Curium Belgium/PI-Medical
Booth 03: Mediso Medical Imaging Systems
Booth 04: ITM Isotope Technologies Munich SE
Booth 05: Siemens Healthineers (Industry Sponsored Symposium by Siemens Healthineers)
Booth 06: Cyclomedica
Booth 07: IMA-X S.A.
Booth 08: GE HealthCare
Booth 09: BAYER
Booth 10: Telix
Booth 11:

MiE medical imaging electronics

Booth 12: Trasis
Booth 13: Hermes Medical Solutions
Booth 14: Incepto Medical
Booth 15:

MIM Software Inc.

Booth 16: Berthold Technologies
Booth 17: Spectrum Dynamics Medical
Booth 18:

IBA RadioPharma Solutions

Booth 19: TerThera b.v.
Booth 20: IRE ELiT
Booth 21: Advanced Accelerator Applications Benelux
Booth 22: PEO Detection
Booth 23: TERUMO EUROPE
Booth 24: Boston Scientific Benelux
Booth 25: Sirtex
Industry Exhibition & Sponsorship Opportunities
In order to maximize interaction with participants, exhibitor booths will be positioned in close proximity to the centrally located catering area and further information on exhibitor stands will be published in the coming weeks.
If you have any immediate questions or requests regarding the reservation of booth space, please contact us at any time (office@belnuc.be).
Order Form BELNUC'23
Please download HERE the Sponsorship Brochure as well as the Order-Form for BELNUC'23 and send it fully filled and signed to office@belnuc.be
Shipping Address:
Chau. de Bruxelles 135, 1310 La Hulpe, Belgien
Setup/Dismantling:
Setup:
April 22, 2023 – from 05:00 am – 08.15 am
Make sure to have the booth ready at 08:15 am since the exhibition opens at 08:30 am.
Dismantling: April 22, 2023 – from 06:00 pm